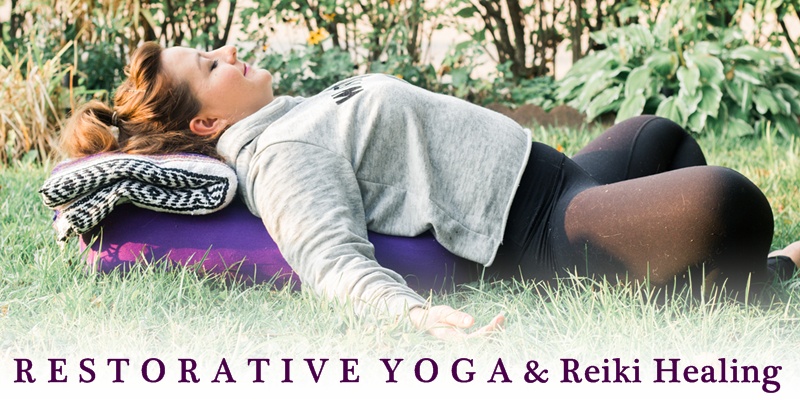 Fri Dec. 8th

6:30 – 8:15pm

Cost: $25
Chapel Hill Bodyworks
*preregistration required*
In this specialized workshop, students will hold traditional restorative yoga poses and receive Reiki Therapy. Restorative Yoga helps to relieve the effects of stress by allowing the central nervous system to calm while the body is fully supported with the use of props (bolsters, blankets, blocks etc.), stimulating deep relaxation and a sense of restoring and renewing your mind, body, and spirit. This workshop is excellent for beginners looking to relax!
To deepen your experience of healing and relaxation, Reiki Therapy is incorporated into this workshop. Reiki is an ancient form of universal energetic healing that encourages a state of balance, harmony, and self-healing. Reiki Therapy enables you to access your innate healing energies. Like restorative yoga, Reiki Therapy works on all levels of physical, emotional and spiritual elements, to help reduce stress, anxiety and other ailments.
Combining both Restorative Yoga and Reiki Therapy allows for deep stillness to be found, as well as a transformation experience within and without. Jenny is a Reiki Master teacher and infuses her practice with light massage and Essential oils.
Wed, January 17th

@ 6:30pm

Chapel Hill Bodyworks
*preregistration required*
Dr. Yvonne Karney from Northern Illinois Center for Functional Medicine will be presenting :
Dr Yvonne is a traditionally-trained and board certified medical doctor.  She believes that we were designed to be healthy and our bodies are "fearfully and wonderfully made".  If we work with our bodies to supply the raw ingredients and remove the bad things that disrupt important processes we might find an amazing capacity to heal.
As she discovered the field of Functional Medicine, she was amazed at its simplicity.  By providing nutrients, removing toxins, amazing things will happen.  Dr Yvonne is a fellow-in-training through The Metabolic Medical Institute, which teaches functional medicine principles.
Dr Yvonne will share her personal journey into functional medicine, her philosophy of health, contrast traditional medicine from functional medicine, and provide a few tips on vitamins and minerals that are important to health.
"The atmosphere is very calming and relaxing. Chapel Hill Bodyworks is a small-town, family-type business and does their utmost to make everyone who enters feel comfortable and welcome"