Fri Oct. 6th
6:30 – 8:00pm
Cost: $10
Chapel Hill Bodyworks
* preregistration required*
Are you curious about what Fertility Massage is? Do you want to learn more about what a Castor Oil Pack is or learn why essential oils are incorporated into a Fertility Massage? If you answered yes to any of those questions, you'll want to attend this upcoming workshop!
JJ Novak, LMT, BCTMB is hosting an Introduction to Fertility Massage workshop on October 6.  This workshop will be filled with great information, but will also be an experience for your senses. You'll smell the essential oils. You'll feel the thick and sticky castor oil. You'll calm your mind and body during a guided relaxation. You'll receive a soothing neck massage. And you'll enjoy tasty chocolates and goodies.
10 people max
(Please wear comfy clothes. Bring a yoga mat if you have one)
Thurs Oct. 26th

6:30 – 8:00pm

Cost: $30
Chapel Hill Bodyworks
Come join Amanda Yablun as she leads this fun and informational workshop! Learn about doTERRA essential oils as well as how to make your own rollerball blends.
Rollerball application allows you to have your essential oils ready to go at your fingertips! Sore muscle, seasonal allergies, having difficulty focusing??? Just Roll and Go!
This is the second part of the Rollerball Wellness kit that includes 10 rollerball blends in all.
The 5 rollerballs we will be making are:
Black and blue (for bruising)
Focus Blend (for improved concentration)
Muscle Blend (for pain relief)
Open Airways (for congestion relief)
Seasonal Blend (for allergies)
PLUS: an additional sanitizing Hand Spray
Please note: you did not have to attend the first workshop in order to attend this workshop. Upon request, you may also purchase pre-made rollerballs from the first workshop or this workshop for the same price of $30.
The first 5 rollerballs included these blends: Belly Blend, Breathe Easy, Immune Boost, Skin Soothe, and Sleepy Time.
Essential oils are natural substances created by plants. When applied on the body, inhaled, or ingested, these oils promote healing and well-being. After essential oils are applied to the bottoms of the feet, they are said to be dispersed to all cells in the body within 20 minutes!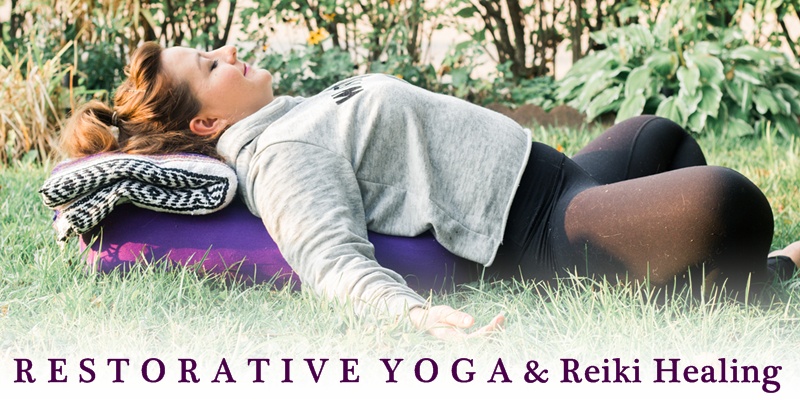 Fri Oct. 27th

6:30 – 8:15pm

Cost: $25
Chapel Hill Bodyworks
*preregistration required*
In this specialized workshop, students will hold traditional restorative yoga poses and receive Reiki Therapy. Restorative Yoga helps to relieve the effects of stress by allowing the central nervous system to calm while the body is fully supported with the use of props (bolsters, blankets, blocks etc.), stimulating deep relaxation and a sense of restoring and renewing your mind, body, and spirit. This workshop is excellent for beginners looking to relax!
To deepen your experience of healing and relaxation, Reiki Therapy is incorporated into this workshop. Reiki is an ancient form of universal energetic healing that encourages a state of balance, harmony, and self-healing. Reiki Therapy enables you to access your innate healing energies. Like restorative yoga, Reiki Therapy works on all levels of physical, emotional and spiritual elements, to help reduce stress, anxiety and other ailments.
Combining both Restorative Yoga and Reiki Therapy allows for deep stillness to be found, as well as a transformation experience within and without. Jenny is a Reiki Master teacher and infuses her practice with light massage and Essential oils.
"Expecting my first child was the most exciting and at the same time scariest time of my life. As any new mom would, I wanted to maintain optimal health for myself and for the baby. I had previously struggled with many issues leading up to my pregnancy and was determined to do everything in my power to ensure a positive outcome. Staying healthy and comfortable proved to be a challenge, but I had some help that made all the difference.