Welcome to our Massage Therapy and Wellness Center!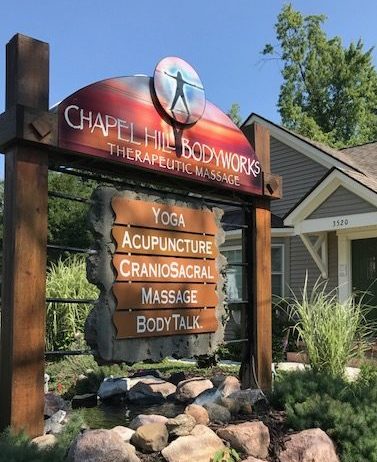 Located in downtown Johnsburg just 5 minutes from Mchenry. We have been serving Mchenry County for over 11 years.
At Chapel Hill Bodyworks we are passionate about massage therapy as well as the other complimentary modalities that we offer. Our therapists are professional, yet personal, striving to honor our clients' needs with creative open minds. We approach every session with the knowledge that each client is unique in what they require and how they respond.
Whether the session be specific, therapeutic, relaxing or a combination thereof, our therapists are highly trained and dedicated. When dealing with soft tissue manipulation, we keep in mind the physical, functional, and psychological results that our clients aspire to. We uphold the highest respect for the human body at all times.
Whatever services you are seeking: preventative, restorative, or therapeutic, we are eager to work with you and make sure all your goals/needs are met.
Click Here to read this months Newsletter & make sure to sign up below to receive a copy!
Book a Session Online Now
"Expecting my first child was the most exciting and at the same time scariest time of my life. As any new mom would, I wanted to maintain optimal health for myself and for the baby. I had previously struggled with many issues leading up to my pregnancy and was determined to do everything in my power to ensure a positive outcome. Staying healthy and comfortable proved to be a challenge, but I had some help that made all the difference.